Somalia's new Prime Minister, Hassan Ali Khayre, is expected to announce ministers soon. Some reports suggest he could make the announcement today. There  are so many qualified Somali induvials he could choose, but we believe these four are capable and incredible people he should include in his new cabinet.
1)  Mona al-Sharmani as Somalia's Next Attorney General?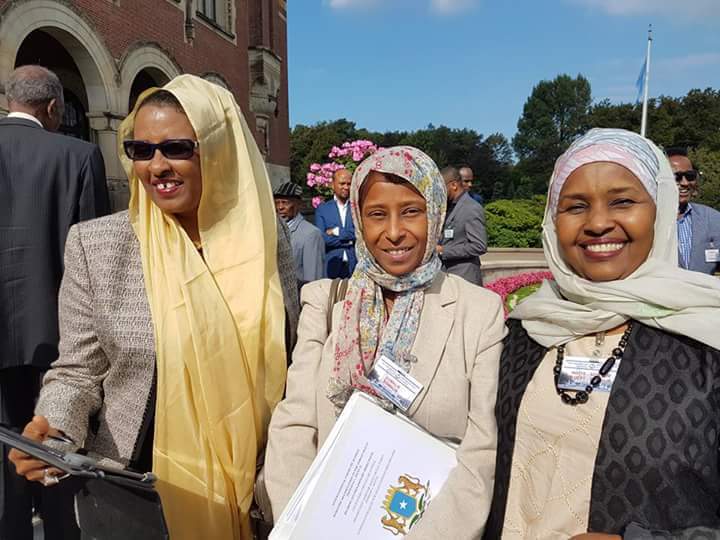 If you have not heard about Mona al-Sharmani, well, you have not been following Somali affairs. Mona is one of the attorneys who have represented Somalia's legal case before the International Court of Justice (ICJ) in the Hague, Netherland. Kenya and Somalia are embroiled in a maritime dispute that is currently before the International Court of Justice.
Hassan M. Abukar, contributor for Wardheer News, wrote "Mona represents what is good about patriotism, national service, and work ethics. She has made a name for herself through her education, extensive legal experience, and service.
Could Mona al-Sharmani be the next Attorney General?
2). Dr. Maryam Qaasim as Somalia's Next Health Minister?
Dr. Maryam Qaasim, a medical doctor by training, served as an obstetrician and gynaecologist, living and working in various places, including Somalia, Yemen, the Netherlands and the United Kingdom. Additionally, she was a university lecturer.
In 2010, Dr. Maryam Qaasim was the Minister of Women's Development and Family Affairs in the Transitional Federal Government (TFG). She was a key part of Prime Minister Mohamed Abdullahi Mohamed (Farmajo)'s Cabinet. Dr. Maryam Qaasim served as the Minister for Human Development and Public Services of Somalia from November 2012 to January 2014. She is
Could Dr. Maryam Qaasim be Somalia's next Health Minister?
3)  Dr. Abdirahman Duale Beyle as Somalia's next Foreign Minister?
Dr. Abdirahman Duale Beyle is a Somali economist, professor, and politician. He served as the Minister of Foreign Affairs and International Cooperation of Somalia from January 2014 to January 2015. Prior to his appointment as the foreign minister, he worked with African Development Bank (AfDB) as an economist. In addition, Dr. Beyle taught economics, statistics, and finance at universities in Saudi Arabia and the United States.
Dr. Abdirahman Beyle is member of Somalia's current parliament. The Somali Parliament chose him to chair both the election for the speaker and the election for the new president. Dr. Abdirahman Beyle, a friend to many Somalis and non-Somalis, is a well-respected diplomat that will make Somalia's foreign policy a robust one.
Could Dr. Abdirahman Beyle be the next Foreign Minister?
4. Yussur Abrar as the Next Finance Minster?
Yussur Abrar is a Somali economist, banker, and businesswoman. Yussur Abrar previously served as Vice-President at Citigroup, as well as Vice-President of Credit Risk Management at the American International Group in New York City.
On September 2013, Abrar was appointed as the Governor of the Central Bank of Somalia. She succeeded Abdisalam Omer in the position, who is now the outgoing foreign minister. Although she served the position very short time, Yussur Abrar was the first woman to have been appointed as the Governor of the Central Bank of Somalia.
Abrar's first announced priorities included revitalizing the national financial system through the issuance of licenses to banks and other financial institutions, collaborating with stakeholders on the remittance market, strengthening the regulation framework to ensure fiscal responsibility and transparency, and instituting monetary policy vis-a-vis job creation to galvanize economic development and growth. As a possible finance minister, she could realize all these priorities.
One of the main reasons we believe Yussur Abrar would make a great finance minister, is a talk she gave in Toronto. See it for yourself below. She has a vision for stronger Somalia that has its finances together.
https://www.youtube.com/watch?v=hLn0Z2PAjLo
Could Yussur Abrar be the next Finance Minister?
Our editors believe these four Somali individuals would be capable leaders that should be considered to hold ministerial positions. We have the new Prime Minister and the President both consider including them in the new cabinet.
What do you, the reader, think of these individuals? Do you know others who would be strong candidates for these ministries or other ministries?
Comments