Tonight, "A Crack in the Sky," a new play based on Ahmed Ismail Yusuf's life story and his 2013 book, "Somalis in Minnesota," makes its world premiere at the History Theatre.  And while Yusuf's story of a young shepherd boy's journey from Mogadishu to Minneapolis is getting the full theatrical treatment, the focus of the play is on the power of the written word.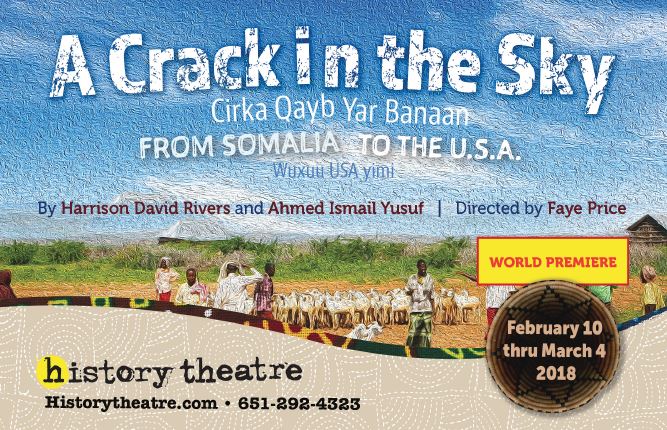 "A book can change your life, and teachers are not your enemies; they are your best friends," said Yusuf, who learned to read and speak English when he came to the United States from Somalia as a high school dropout in the late 1980s. He discovered Maya Angelou's "I Know Why the Caged Bird Sings" and devoured it over two weeks, using the Somali-English dictionary to translate Angelou's poetic words about overcoming hardship and seizing the day.
"Ahmed is really interesting, because a lot of Somalia people today travel here to seek refuge in Minneapolis," said Ashawnti Ford, the actress who plays both Yusuf's mother and Angelou. "Ahmed moved to the States before all the terror and the war broke out in Somalia. He came here to seek an education, and when he was here the horrible things started happening in his country. So this is taking place in the '90s, when he hasn't seen his family in years or months, versus today, when we can be a Facebook click away from seeing someone.
"He's inspired by Maya Angelou to write, because he read her books and he said to himself, 'If she has overcome all of this stuff in America, then I can overcome what I'm going through now and I can write my story.' So it's him, coming to America and seeking an education, and learning that he wants to be a writer. Through teachers and family members, he learns that he wants to tell his story, a really significant story that is so empowering, and inspire people to keep pushing forward and remain resilient. When I got the call to audition, I was so excited because I've always loved Maya Angelou. My mother was a poet; she has all her books."
'So many hoops to go through'
"The play is not exactly confronting it, but it shows the struggles an immigrant faces," said Yusuf. "There are so many hoops to go through that maybe a normal American, an ordinary person, might not even notice it. But it is just quite out there for an immigrant. An immigrant is not exactly the leeches that Donald Trump has painted them to be. They are people who are contributing; they are people who are appreciative of the opportunities they have when they are here."
"I just hope that when people come to our play that they will realize that not everyone decides to wake up one day, pack up their bags and go, 'OK, I'm going to emigrate. I'm going to leave everything I've known my whole life behind,'" said actor Mohammed Sheikh, who portrays the young Yusuf. "Nobody does that. It's not an easy thing that you can just decide. It's not a road trip, you know? It's a decision that can cost you your life, that can cost you identity, that can cost you happiness, that can cost you just about everything.
"And I just hope that when people come, they will realize that regardless of our skin color, regardless of what we believe in, regardless of how we pray, we're all fighting the same battle, which is to survive to see another day."
A Somali proverb
"A Crack in the Sky" gets its title from the Somali proverb, "If people come together, they can even mend a crack in the sky." Not only does the play detail Yusuf's immigration tale, it tells the story of what many Somalians and Somali-Americans have faced coming to America over the last two decades. These days, however, daily headlines about deportation and racism provide a stark background to Yusuf's mostly joyous tale of coming to America.
"I'm getting something more valuable than any prize" by being part of "A Crack in the Sky," said Sheikh. "Lessons, motivations, and the determination to succeed as a first-generation immigrant in this beautiful country."
He continued his monologue animatedly, as if writing his own story for the stage.
"I've been in the United States for three years, and I've worked for six months now. I'm basically going through the roller-coaster right now that the character that I'm playing is going through: sending money back, being here, young in your 20s, having ambitions to accomplish a lot, but at the same time the little that you're making, or the little that you're getting, you have to divide it into many portions, you know?
"So my family is back in Africa, my mom and my siblings are back in Africa; my dad is here, so it saves me a lot of the trouble that my character experiences. I haven't seen my youngest siblings or mom for three years. I want to see them, I want to touch them, I want to be with them, but hey, it is what it is. And that's exactly the same thing Ahmed has dealt with. There are a lot of scenarios and plot twists that I can relate to."
Angelou wrote, "Prejudice is a burden that confuses the past, threatens the future, and renders the present inaccessible," and, "There is no greater agony than bearing an untold story inside you." Both truths will be brought to life through March 4 at the History Theater, which has been telling immigrant stories for 40 years.
A Crack in the Sky opens soon on February 10th! Join us at History Theatre for the true tale of local teacher, Ahmed Yusuf who had enough of the nomadic life in Somali and set off on the road less traveled from Somalia to Minnesota. https://t.co/UenkFyuWi2#HTCrackintheSky pic.twitter.com/EMnPeXHlri

— History Theatre (@HistoryTheatre) January 31, 2018
Story first appeared on MINNPOST
Comments